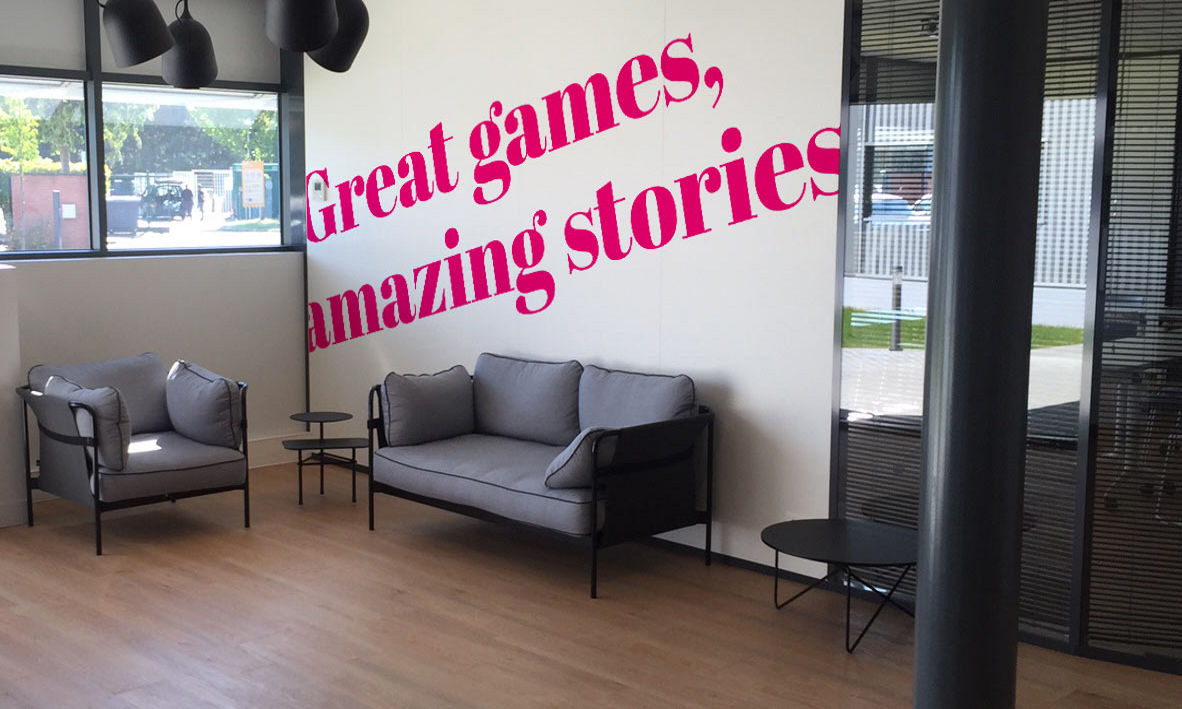 At Asmodee, we make Great Games and tell Amazing Stories
We only succeed together.
Our success comes from our two strong pillars publishing studios & distribution networks. From this powerful core of the games business, we will transform high-potential stories into iconic IPs and fantastic opportunities for consumer products.
We empower people to dare.
We believe in the power of ideas, and encourage creativity and innovation. We believe that every idea can become a success story. To create the conditions for each project to succeed, we have built an R&D and innovation model based on test and learn, from publishing to distribution.
We believe in creative business.
We are constantly growing by reinventing ourselves and always looking for new stories to tell.
We lead generously.
We may be leaders in our industry, but we believe in growing the market with respect for equality and universality.
We are seriously cool.
We are in the business of games, with a real entrepreneurial spirit. We are 2300 amazing people who create and sell cool products and we take it very seriously.
We set imagination free.
As we consider ourselves to be the business angels of our sector, we're always eager to give a chance to high-potential initiatives in publishing, development and distribution. We give people the tools to create exciting worlds, where their imagination can run free .
Strategy

From games to entertainment… infinite possibilities

As a worldwide leader in the games industry,
we create and distribute game experiences to a global audience. Our games tell immersive stories that inspire people to push the boundaries of their imagination.

Using the narrative power of games,
we aspire to create experiences that follow game players throughout their life, across all forms of media.

From a powerful core of the games business,
we'll explore new forms of content and entertainment to transform intensely immersive stories
into successful IPs and fantastic opportunities
for consumer products.

When you have a game with a great story to tell,
the sky's the limit.

Work

It's all about telling great stories and intense experiences

From the earliest days, we've wanted to tell amazing stories. Our goal is to create the most immersive games.

With a track record that includes a large number of global blockbusters like: Dobble/Spot it! Catan, Star Wars: X-Wing, Ticket to Ride, Jungle Speed, Arkham Horror, Pandemic, and Timeline. As well as, having many titles to choose from, the gaming experience should appeal to the widest possible audience.

For that reason, we keep bringing each game to its maximum potential, in order to tell the best stories to the greatest number of people.

Our group

Discover what makes Asmodee tick

We search high and low to discover the freshest talent and veteran leaders to continue building an organization made up of a diverse and inclusive group of superstars.

We take being cool serious and first and foremost are in the games business, so everything we do reflects that.

Our team started off as a couple of guys and a garage, now we're close to 2300 people with studios and offices all over the world.

History

We've been around a long time but we still like to shake things up.

It all started with a couple of friends in a garage, who loved games decided to create and sell their own.

They added more games to their roster and what started as a small game business has become a fast growing company. This is the story of how all the companies that today form our group were created. We are passionate people, gamers that create and distribute games for all players.

Today with 22 development studios, 22 distribution business units and over 2500 employees worldwide.

We're ready to make the next 20 years even more successful for us and our partners.
Studios

Office Dog

Office Dog was started in 2022. It was quickly staffed with a small elite team of industry veterans – each with more than 20 years of professional experience in their field. All of us at Office Dog share a desire to bring world-class tabletop games to customers around the world. Instead of designing and illustrating games ourselves, we engage and direct the freelance community of game designers and artists to make our games.

We focus on original tabletop games as well as tabletop games based on Embrader-owned and licensed intellectual properties. If you've ever wanted to pitch your game design to Asmodee, we're a great place to start. If you're an artist who wants to work on tabletop games, send us your portfolio – who knows, maybe someday we'll work together to make a great game.

Office Dog will start releasing games to the public starting in 2024 with our launch title, Word Traveler followed shortly by River of Gold.

Exploding Kittens

Exploding Kittens is a leading game and entertainment company with a mission to inspire people to connect, laugh, and play fun games in the physical world. After initially seeking to raise $10K through Kickstarter, the Exploding Kittens campaign raised $8.7M in 30 days from 219,000 backers. To date, Exploding Kittens is the #1 most-backed project in Kickstarter history and has sold over 18 million games.
Started by former Xbox game designer Elan Lee and The Oatmeal's founder Matthew Inman, Exploding Kittens and its family of games seek to reshape traditional game night into an entertaining person-to-person experience. Today, there are nearly 30 games available for purchase as well as an Exploding Kittens mobile app that is one of the top 30 premium games on both iOS, Android, and the Nintendo Switch console, as well as a free-to-play app, Kitty Letter

Access+

Asmodee Group believes that everyone, no matter their condition, should have access to the enjoyment and benefits of board games and the happy moments they create. Consequently, it launched the Access+ studio in 2022 with the aim of providing equal and inclusive access to board games.

Working with healthcare professionals, the Access+ teams are developing a line of inclusive games accessible to as wide a spectrum of people as possible, including those living with cognitive disorders.

18, rue Jacqueline Auriol
Quartier Villaroy
78280 Guyancourt
France

Zygomatic

For the past 20 years, we have been scouting around for the best family games on the market : party games, card games, for 8+ and young adults.

We currently handle a strong family games portfolio so that we can propose a game for each time of the day.
Our games' identity : easy rules, short duration, intergenerational gameplay and a reference point for party games.

238, rue des Frères Farman
78530 BUC Cedex
France

Catan Studio

We develop and publish Catan® games

Catan Studio® is devoted to making Catan® the world's preeminent social game brand. We are creating an enduring, positive, premium, value-based global brand. Constantly growing while firmly rooting itself in the fabric of popular culture, Catan is leading a worldwide renaissance of social gaming. Catan Studio is bringing the fun, infectious, and interactive story of Catan to all media and cross-media platforms.

804 Elliott Ave
Charlottesville, VA 22902
United States of America

Fantasy Flight Games

Fantasy Flight Games is a leading hobby game company based out of Roseville, Minnesota. We publish a massive array of board and card games, roleplaying games, Living Card Games®, miniatures games and digital games. Established in 1995, FFG has earned a reputation for its innovative gameplay, immersive gaming experiences, industry-leading customer service, and top-quality game components (often enhanced with highly detailed plastic miniatures and beautiful artwork).

Many of its most popular titles are based on beloved licenses such as Star Wars, George R.R. Martin's A Song of Ice and Fire, and J.R.R. Tolkien's The Lord of the Rings, as well as our own proprietary licenses such as Legend of the Five Rings, Android, and Runebound. Throughout the course of the company's history, FFG has published games in over thirty languages and distributed games to more than fifty territories.

1995 County Road B2 West
Roseville, MN 55113
United States of America

Days of Wonder

website

Play Different

Days of Wonder® develops and publishes games that Play different.™ From its insistence on releasing only a very limited number of new games, to its uncompromising board game production values and unique in-house digital development team, Days of Wonder consistently raises the bar with an unmatched string of hits that includes Ticket to Ride®, the world's best-selling train game; Small World®, the legendary fantasy game of epic conquests; and Memoir '44®, the World War II saga with 20 expansions to its credit.

Days of Wonder board games are distributed in 40 countries and their digital versions are available on the iOS App Store and Google Play, as well as on Steam and Days of Wonder's web site. To date, the company has sold over 5 million board games and hosted over 45 million games online; and it remains the youngest company ever to win Germany's prestigious Spiel des Jahres, the world's most coveted game prize.

238, rue des Frères Farman
78530 BUC Cedex
France

Repos Production

Repos Production publishes a wide range of family games (Time's Up! and its variations, Concept, Just One etc.) with simple rules and short games. The Connaisseur range consists of games (7 Wonders, Naheulbeuk Dungeon, Cash'n Guns, etc.) that require some attention when explaining the rules, but whose games rarely last more than 30 minutes.

Rue des Comédiens, 22
1000 Bruxelles
Belgium

Libellud

French boardgames publisher founded in 2008, Libellud have met rapidly with the success thanks to its first game: Dixit. In a decade, Dixit has become a must-have. Based in Poitiers, the company employs 19 people. Libellud enjoys developing original games based on imagination, sharing and dream. With Dixit, Loony Quest, Mysterium and Dice Forge series, the company explores new game horizons allowing us to reach both family and experienced players.

Plan B

Plan B Games Inc. was founded in April, 2016 with a singular mission – bring together exceptionally talented people to create exceptionally good games. Since then, Plan B Games has founded a new imprint, Next Move Games, welcomed Eggertspiele into the family, and founded Plan B Games Europe. With strong product lines that cover gamers aged 8-99, there is no doubt any gamer will find something to love – a world of possibilities!

Since its inception, Plan B Games has grown from a small publisher of handpicked staff to being a major international player in the gaming industry. Within the combined catalogs of the imprints, Plan B Games has 2 Spiel des Jahres winning titles, a Kennerspiel des Jahres winning title, and a multitude of other industry awards and nominations. Fans and critics alike acknowledge Plan B Games' focus on amazing productions that are only rivaled by their gameplay. We invite you to discover your next favorite game!

Space Cowboys

Space Cowboys is a french publisher. This creative studio was created in 2013 by the founders of Asmodee (the leader in the French gaming market): Marc Nunes, Philippe Mouret, and Croc.
Space Cowboys now sports four main ranges in its catalog : Splendor, T.I.M.E Stories, Unlock! and Sherlock Holmes Consulting Detective.
All of these games are best-sellers and they all have received or been nominated for gaming awards all around the world.
The studio's first game, Splendor, is now considered as a classic, as well as an ideal entry point into the boardgaming hobby.
T.I.M.E Stories, Unlock! and Sherlock Holmes Consulting Detective have many original and specific mechanisms, and they all show the taste of the Space Cowboys for games with very strong narrative elements.
In the future, Space Cowboys will keep on developing these ranges and creating new designs and IPs, with these goals in mind : introducing innovative and solid mechanisms, choosing high quality game materials, relying on beautiful art and foremost of all : having the will to always amaze.

238, rue des Frères Farman
78530 BUC Cedex
France

Z-Man Games

Since 1999, Z-Man Games has published over 100 critically acclaimed games with a wide variety of themes and game mechanics from casual to complex. We are known throughout the industry for our eclectic catalog that encapsulates the best of what games have to offer—from beloved classics like Tales of the Arabian Nights to shiny new products like Pandemic Legacy. We also partner with several international publishers to release their games in English markets.

Our keen eye for design innovation, attention to visual aesthetics, and top-notch components allows us to stand out among game publishers, and it has attracted the top creative minds in the industry to trust us to take their exciting, fresh ideas from concept to reality. We plan to continue this award-winning tradition for years to come. Thanks for playing!

1995 County Road B2 West
Roseville, MN 55113
United States of America

Atomic Mass Games

Atomic Mass Games brings your favorite characters and worlds to life with beautiful miniatures. Whether inviting players to assemble their own teams of mighty Marvel characters or immersing them in the galaxy far, far away of Star Wars, our games combine beautifully sculpted miniatures with a faithfulness to the source material that creates unforgettable experiences.

909 SE Everett Mall Way Everett
WA 98208
United States of America

Edge Studio

website

Play beyond the limits

Founded in 1999, Edge Studio is the Asmodee studio dedicated to tabletop role-playing games (RPG).

Based in France, Spain and USA, its multicultural team designs RPGs in universes such as Star Wars, Legend of the Five Rings and Twilight Imperium.

Edge Studio manages the localization of major RPGs and boardgames such as Star Wars: Shatterpoint, Gloomhaven, The One Ring RPG and ALIEN RPG.

Edge Studio is also responsible for the graphic design of major boardgames and card games such as Citadels, the Game of Thrones Boardgame and Gears of War Boardgame.

Edge Studio

Hills Plaza, Bâtiment B

8 rue de Vidailhan

31130 Balma

France

Lookout Games

Games on the Kennerspiel level

The German label Lookout is notorious for outstanding board and card games like the 2-player bestseller Patchwork, the 2016 Kennerspiel winner Isle of Skye or Uwe Rosenberg's Harvest Trilogy Agricola, LeHavre and Ora&Labora as well as clasics like 1830 and other games from the 18xx universe. Paired with the distinctive artwork of Klemens Franz, Lookout games have a unique feel and a fan base all over the world.

Bezzerwizzer Studio

With a passion for knowledge, curiosity and playfulness, BEZZERWIZZER Studio was founded in Denmark in 2006 by Jesper and Birgitte Bülow. Since then, the studio has built a strong portfolio of trivia and party games and, to date, has sold more than three million games in more than 10 countries.

The studio key words are togetherness, creativity, knowledge and quality. Bezzerwizzer Studio takes pride in the fact that their games can play a part at gatherings of friends and family. Bezzerwizzer people are driven by the desire to give even more people around the world the opportunity to play their way to new discoveries and fun memories.

Bezzerwizzer Nordic ApS
Valseholmen 1
2650 Hvidovre
Denmark

Mixlore

Founded in 2018, Mixlore is a boardgame studio dedicated to hunting the latest and hottest trends in order to convert them into fun and accessible games for everyone. Some of our most famous games are Ramen Fury, The Shining, Top Gun and many more to come!

18, rue Jacqueline Auriol

Quartier Villaroy

78280 Guyancourt

Space Cow

The main mission of the SPACE Cow team is to publish high-quality board games marked by original and various universes.

Our objective is to entertain Earthlings of all ages while developing their versatility and imagination skills through games. That's why all our games are tested in kindergartens and primary schools.

47 rue de l'Est
92100 Boulogne-Billancourt

FRANCE

Unexpected Games

Unexpected Games was founded in 2019 by veteran board game designer Corey Konieczka. Our goal is to create games that are novel, fun, thematic, and accessible. We hope to surprise people and create experiences that they've never had before.

We are a small studio, and plan to remain small to keep a personal touch. We look forward to sharing our unique vision with the board game community.

1995 County Road B2 West
Roseville, MN 55113
United States of America

Rebel Studio

Rebel Studio is a board game development studio, part of Rebel.pl – publishing company, distributor and biggest online retailer store with board games in Poland.

They create board games to enjoy!

Rebel Sp. z o.o.
ul. Budowlanych 64c
80-298 Gdańsk
Poland